Baby Yoda "The Child" Inspired Quilted (3-ply) Face Mask (Made to Order: Ships in 2 Weeks)
This variant is currently sold out
Face mask with elastic fitting
Made from breathable quilted jersey fabric in three sizes
Comfortable fit and shape that contours to your face
Washable and reusable. Machine and dryer safe
Handmade to order - no stock shortages

Dimensions (approx)

Small - 4.3" height - 4.3" elastic at each end, looped
Medium - 4.9" height - 4.7" elastic at each end, looped
Large - 5.5" height - 5.1" elastic at each end, looped
Extra-Large - 6.1" height - 6.3" elastic at each end, looped


Height: Select the height that will best cover your mouth and nose
Width: One size fits all.

As each printed face mask is handmade to order, we would advise that you wash them before use. These masks last for up to 100 washes, and can be washed at up to 140°F/60°C to keep your mask hygienic.

Please note: These face masks are NOT medical grade masks (which are recommended by the World Health Organization (WHO) as an infection preventative measure, i.e. grade FFP2/N95). So please DO NOT purchase custom face masks with the false understanding they will prevent infection from Coronavirus. They are more about protecting others to reduce spread. Due to the personal hygiene nature of the product, your face masks are non-returnable.
Face Masks are not returnable due to the personal hygiene nature of this product. Per customer feedback, the masks can run small. If you are in doubt, order a size larger. Most adults will fit a size Large.
Donate to Feeding America's Coronavirus Response Fund
No one should go hungry during the COVID-19 pandemic. With school closures, job disruptions, and health risks, millions of Americans will turn to food banks for much-needed support. They can't do it alone and you can help.
10% of your purchase supports Feeding America!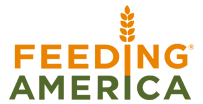 In this time of uncertainty, Feeding America along with its network of local leaders works to ensure that this pandemic does not perpetuate inequity or deepen the burdens often borne disproportionately by communities of color and low-income people. We are agile and adaptive, supporting the growing needs of the communities we serve.
Feeding America dedicates our resources, platforms, and political will to make the biggest impact on people with the greatest need. This moment is an opportunity to illuminate how we are all affected when some of us lack the protections of a safety net. By focusing on the needs of people most impacted, we can better ensure the health and safety of all communities.